History 171, "The History of Middletown: A Research Seminar" was taught in the Fall of 2001 by Ronald Schatz. A sophomore seminar, this course was intended to provide prospective history majors with an introduction to the methods of historical research, especially in the use of primary source documents in writing history. The major piece of work required was a seminar paper on one aspect of Middletown history. Students used a wide variety of documents in their work, some of which are shown here. They include: eighteenth-century Middletown newspapers; manuscripts related to individuals and businesses in the area; the work of previous student researchers on local topics; and documents from Wesleyan's own archives.
Three student projects illustrated here are: a history of the Wesleyan admissions office under the directorship of Robert Norwine (1954-1963); a look at the very different lives of four slaves in the Middletown area in the eighteenth and nineteenth centuries; and a close examination of the work and significance of Joshua Stow, a Middletown citizen active in state and local government over the turn of the eighteenth century.
-Jeffrey Makala, Assistant University Archivist/Reference Librarian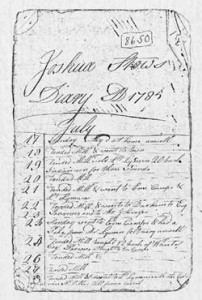 July 1785 entries, Joshua Stow diaries (photocopy), Middletown manuscripts collection, Special Collections & Archives. Original diary is in the Joshua Stow Collection, Middlesex County Historical Society.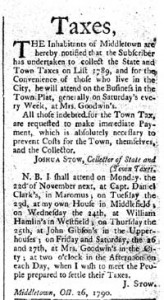 Announcement of the collection of taxes by Joshua Stow. Middlesex Gazette, November 6, 1790.
Dael Norwood. "A Constant and Formidable Foe: Joshua Stow and the Fight for Religious Freedom in Connecticut," student paper, Fall 2001, Special Collections & Archives.
In teaching history, there is nothing better a scholar can do than show students how to work with primary documents, particularly if they help define and pursue the subjects themselves. It allows students to acquire a sense of the past and to work up interpretations of their own in a way that is not possible when they are confined to secondary sources or collections of documents selected by historians. Special Collections & Archives in Olin has been of enormous valuable to me and my students over the years. Many students have written essays and theses based in large part on its holdings. They have mainly worked on the history of Middletown or Wesleyan.
Last semester I taught a seminar specially on Middletown's history for the first time; the students all wrote original essays drawing mainly on the holdings of SC&A or those in the Middlesex County Historical Society. I intend to give that seminar next semester and in the future as well. Middletown has a long, complex, and often quite intriguing history. My hope is that over the next decade we can foster several dozen new good research papers and theses. In the process we can not only help students but deepen collective knowledge of local history, for the betterment of all concerned!
-Ronald Schatz, Professor of History
Venture Smith. A Narrative of the Life & Adventures of Venture, A Native of Africa; but Resident Above Sixty Years in the United States of America. New London: A Descendant of Venture, 1835.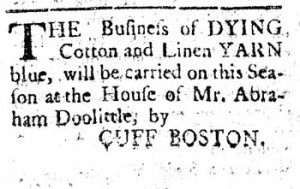 Business announcement of the dying of cotton and linen by Cuff Boston. Middlesex Gazette, July 21, 1797.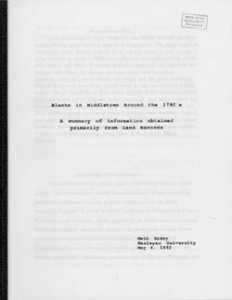 Matt Hobby. "Blacks in Middletown Around the 1790's: A Summary of Information Obtained Primarily from Land Records," student paper, Spring 1992, Special Collections & Archives.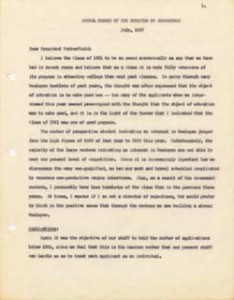 Wesleyan University. Annual Report of the Director of Admissions, July 1957. Special Collections & Archives.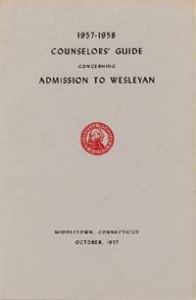 1957-1958 Counselors' Guide Concerning Admission to Wesleyan. Middletown: Wesleyan University, 1957.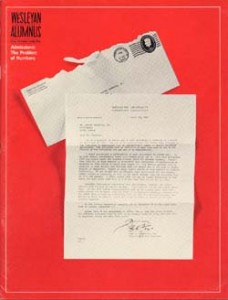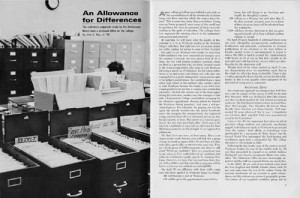 John C. Hoy, Jr. "An Allowance for Differences," Wesleyan Alumnus 49(4) May 1965, p. 4-9.