Students in several classes have worked on the "mystery book exercise," which I developed, during their class visit to Special Collections & Archives. Each student is assigned a book to size up quickly, using the "Questions to Consider" handout to help guide the examination of the book. After about seven minutes of looking at the book and answering as many questions as possible, each student reports briefly to the whole class about his or her book and how it might be used in course-related research. The purpose of the assignment is to help students gain facility with understanding a primary source in its own context: to begin to analyze the intended audience and publisher's and author's purposes in creating the book. They learn to look carefully at all aspects of how a particular book can inform research in a variety of ways beyond the text. The mystery book exercise works particularly well with 19th and 20th century materials, both popular and scholarly.
This case highlights the use of the mystery book exercise by three professors: Patricia Hill (Nineteenth-Century Utopias and The Politics of Sentiment), Kehaulani Kauanui (Ethnic Studies), and Jeffrey Rider (Days and Knights of the Round Table).
-Suzy Taraba, Head of Special Collections and University Archivist
View the "Questions to Consider" handout as a Word file
Cherokee advocate. Tahlequah, Cherokee Nation [Okla.]: W.P. Ross, v.27, no.19 (May 30, 1903).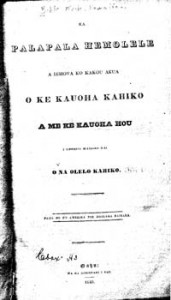 Ka Palapala Hemolele a Iehova ko Kakou akua o ke kauoha kahiko a me ke kauoha hou iunuhiia mailoko mai. O na olelo kahiko. [Bible. Hawaiian.] Oahu: Na na misionari i pai, 1843.
One of the most productive ways to convey to students the exhilaration of historical research is to introduce them to Special Collections & Archives. Scheduling a seminar session in the university's special collections section early in a semester has proved to be an especially effective way of inspiring students to design research projects that utilize Wesleyan's rich resources. The university archivist's famous mystery book exercise allows students to sample materials related to the seminar's specific topic. It teaches students to appreciate and analyze books as material objects as well as texts. In our digital age students tend to privilege words and ignore the economic and aesthetic dimensions of print culture. Turning the pages of a book produced and handled a century or two ago lets students literally touch the past. They can imagine what it was like to first heft a particular volume and encounter its content. The binding and price can indicate the publisher's target audience. Inscriptions, marginalia, illustrations, publishers' ads bound with the text, all become part of the data to be interpreted by the historian. When my students in The Politics of Sentiment encounter sentimental novels in their original bindings their grasp of the culture of sentiment as an expression of a bourgeois material and aesthetic world is enhanced. When they turn the pages of a rare run of a newspaper published by a utopian community in Indiana in the 1840s, students of Nineteenth-Century Utopias understand in a new way the means by which particular utopian ideologies were disseminated. The rhetorical strategies used in editorials and articles can be examined together with the accompanying ads for community-produced goods. These forays into the archives have encouraged several students in each seminar group to return on their own to experience the pleasures of being working historians. There is no better introduction to the craft of history.
-Patricia Hill, Associate Professor of History
The Young man's offering: comprising prose and poetical writings of the most eminent authors. Boston: Phillips, Sampson & Co., 1855. Baskin Collection of Victorian Bindings.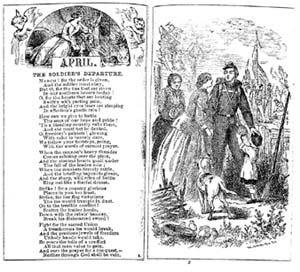 Lady's almanac for 1862. Boston : John P. Jewett, 1862. Baskin Collection of Victorian Bindings.
A trip or two to Special Collections & Archives is a regular part of my courses on medieval and early modern France and French literature. The European past is very distant to most of our students and the opportunity to see, touch and study some of the artifacts of that past helps bring it alive and make it real for them in ways that no classroom discussion–or even any website–ever could. The "mystery book" exercise, in which students are given a book from Special Collections and are asked to answer a number of questions about it (for example: "Who is the intended audience of the book?" "Can you tell anything about the former owners of this copy of the book or how or when this copy of the book came to Wesleyan?"), is an especially effective way to get them to think about books as material artifacts and historical witnesses, each copy of which has its own history to tell.
-Jeffrey Rider, Professor of Romance Languages and Literatures
Chrétien, de Troyes. Le premier [-tiers] volume du Lancelot du Lac nouvelleme[n]t imprime a Paris. [Paris: Printed by Phillippe le Noir and sold by Jehan Petit], 1533. Nathan Comfort Starr Collection of Arthuriana.
I find it very important for students to gain exposure to rare materials and the diverse archives here on campus. In my ethnic studies classes, I always request time for a special workshop in Special Collections so that student can become familiar with resources that can be useful beyond my own course. Time and time again, students mention to me that if it were not for the workshops, they might not otherwise be made aware of what the archives hold. Suzy Taraba's specialized sessions, always designed after consulting each course syllabus, make the material highly accessible and students very much appreciate that, along with the wide range of selection made visible. I encourage students in my courses to get more comfortable examining primary sources and other historical documents. It is vital to encourage access and to offer concrete examples of how research might be conducted and what documents one might use-all of which advance thinking on methods of investigation demanded by the resource materials. For example, they can envision research about American Indians by developing projects where they explore and analyze Native American print media, U.S. federal policy documents, Missionary representations of native life and customs, compilation of laws governing Native Americans, and accounts of the role of the Middletown citizens in the lives of indigenous peoples of this area known to be the territory of the Matabessett and Wangunk Indians. Students can also, for example, examine accounts of debates on abolition in Connecticut and the proposals for the "colonization" of African Americans after the Civil War; or study the role that Wesleyan University and its support of Methodist missionaries in China contributed to the immigration of Chinese people to the United States and the development of early Christian Asian American communities. The Hewlett Diversity Archive is another critical resource in chronicling ethnic studies developments-the advancement of Native American, Asian American Studies, Chicano Studies, and African American Studies-at Wesleyan.
-J. Kehaulani Kauanui:, Assistant Professor of American Studies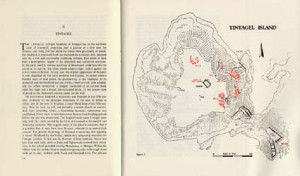 C.A. Ralegh Radford and Michael J. Swanton. Arthurian Sites in the West. Exeter: University of Exeter, English Medieval Studies, 1975. Nathan Comfort Starr Collection of Arthuriana.